Moxa & Guasha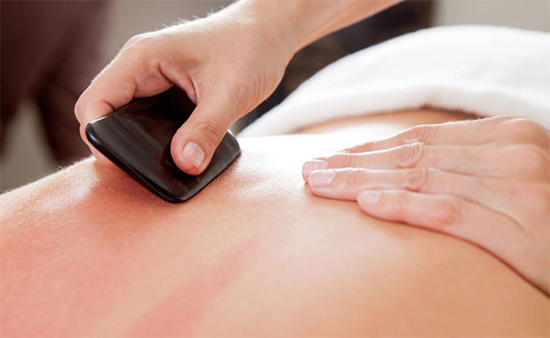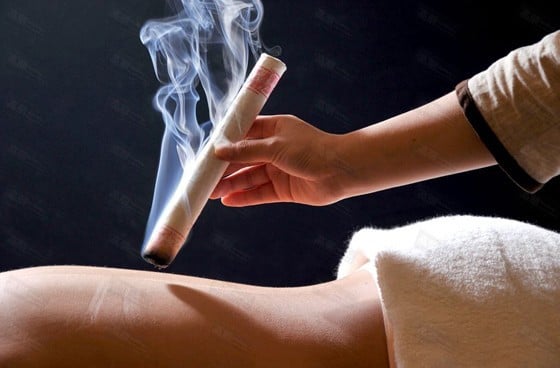 Moxibustie, ook wel moxatherapie of moxabranden, is een begrip uit de acupunctuur. Bij moxibustie wordt warmte energie naar een zogenaamd acupunt geleid, met als doel een tekort aan Qi op te heffen en de chi-stroom te bevorderen.
Geneeskrachtige planten spelen een belangrijke rol in de traditionele geneeskunde van China, Japan, Korea, Vietnam, Tibet en Mongolië. Men droogt de plant en stampt ze fijn, het gruis wordt verbrand of er wordt een sigaar van gedraaid die men niet oprookt maar gebruikt bij acupunctuur. Die moxa sigaar wordt gebruikt om de huid en Acupunctuurpunten warm te maken met de bedoeling de Circulatie van bloed en Qi te stimuleren
---
Gua Sha (刮痧), letterlijk "schrapen" van "ziekten door gestagneerde energie", is een oude medische behandeling die nog steeds beoefend wordt in de Traditionele Chinese geneeskunde. Ook wordt het door Chinezen als een Volkstherapie gebruikt, als preventieve of curatieve behandeling.
Gua Sha bestaat uit het schrapen van de huid met een gepolijste jadesteen of de hoorn van een waterbuffel. De gladde kant wordt stevig op de ge-oliede huid geplaatst en in één richting langs de spieren of langs de acupunctuur meridianen bewogen, in streken van ca. 15 cm lang. Dit stevig schrapen veroorzaakt uitstroming van bloed en kan onderhuidse bloeduitstortingen veroorzaken, die meestal na 2 tot 4 dagen verdwijnen. De kleur varieert naargelang de stagnatie van het bloed van de patiënt (die gecorreleerd kan zijn met de aard van de ziekte) van donkerblauw/zwart tot lichtroze, meestal een roodtint. Hoewel de vlekken er pijnlijk uitzien zijn ze het niet. Patiënten voelen gewoonlijk een onmiddellijke verandering en vooruitgang.
bron:Wikipedia
---
Offers
Danshen Capsules - Dan shen Jiao nang
€ 12,50
€ 9,50
Guestbook
18-11-2020

- Hallo Hendrik

Bai Hua She She Cao hebben wij helaas... 

read more

17-11-2020

- Is de "Bai Hua She She Cao" ook in capsule... 

read more

11-11-2020

- Hallo David

momenteel is de import van de olie lastig,... 

read more
New message